You Get Cash


and You Get it FAST

Cash4Redlines.com © 2018
If you still have your early Hot Wheels Cars

from childhood and are thinking about

selling them,

you've come to the right place
I am a leading buyer, seller and collector of early "Redline" Hot Wheels cars.
Having bought and sold thousands of early Hot Wheels over the last 24 years, I always put the seller first and make sure they get a fair price for their cars.
I like to buy early "Redline" Hot Wheels, made by Mattel Toys in the 60's and 70's and I have built a large customer database of over 1,000 collectors who are looking for particular cars.
Do you have true "Redline" Hot Wheels?
These earliest of Hot Wheels cars (produced between 1968 and 1977) are called Hot Wheels because of the red "stripe" on the outside wall of the tires.
Redline tires were the hot thing to have on your 60's muscle cars! (and on your Hot Wheels, too!)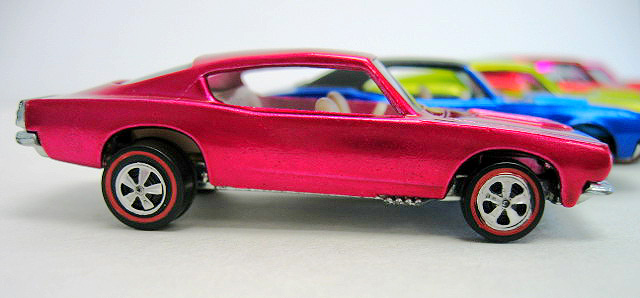 Custom Barracuda featuring original Redline wheels
(Note: In recent years, Mattel re-issued several of the original Hot Wheels and there are a lot of similarities between the originals and the re-issues, including the copyright date on the base, which is NOT the same as the date the car was issued. The re-issues will never reach the values that the originals have reached. The originals will usually say either "USA" or "Hong Kong" on the base, as that is where they were manufactured in the '60s and '70s. More recent reissues will say "China", "Malaysia" or "Thailand" on the base)
I also will often buy the Hot Wheels Orange Track accessories, Sizzlers, Rrrumblers, Chopcycles, Hot Wheels store displays, catalogs, Mattel Employee memorabilia, Prototypes/Pre-production items and other Hot Wheels / Mattel related memorabilia!
Basically, if it has anything to do with Redline Hot Wheels from the 60s and 70s - I'm interested - either for my own collection or for my hundreds of collector friends who are looking for certain cars for their collection!
These are the toy cars I grew up playing with and now, as an adult, they bring back great memories and have actually become sort of an obsession!
Original "Redline" Hot Wheels cars were made between 1968 and 1977. They feature bright, shiny metallic paint in a variety of colors, red striped mag wheels, and a muscle car "rake". (ie: the car sits higher in the rear than in the front)

You might be surprised at how much I'll pay you for some of the rarer versions!
Shown above L to R: Custom Camaro, Custom Corvette, Custom Barracuda, Custom Mustang, Custom Charger
---
So, you've made the decision that it's time to sell your childhood toys - and you want to be sure that:
A. You get a good price for them, and
B. You deal with an honest person who will keep their word.
Well, you basically have two options:
1. Sell them yourself, one at a time on the Internet, or
2. Sell them as one large lot, to a Hot Wheels collector.
Let's look at each option to see the good and the bad about them...
---
Sell your Hot Wheels yourself, one by one on eBay
With this option, be prepared to take on a lot of work, hassles and time.
Let's say that you decide to sell them, one at a time, on eBay.
---
1. You will first have to do some research to determine what your Hot Wheels are worth, find a Hot Wheels Price Guide or determine the prices of Redline Hot Wheels some other way.
2. You will pay listing fees, final value fees, and PayPal fees, along with possibly other fees.
3. You will be responsible for taking clear, focused pictures, from various angles of each car.
(50 cars x 4 pictures each = 200 images)
4. You will then need to crop your pictures, edit your pictures and resize your 200 pictures to fit your auction listings.
5. You will need to find an image hosting service to host your images - another expense. (or use eBay's service which tacks on additional fees)
6. You will then write a description of each of your cars, explaining all of the flaws, such as darkening, toning, chips, scratches, pinpoints, tarnish, broken or missing parts and corrosion.
7. You will then list each item individually and begin to answer e-mail questions about your cars - usually from savvy collectors. (This means you must have some knowledge of these cars, if you want to get the most for them)
8. Once the auctions are over, you will be expected to ship each car promptly (within a few days of payment) and carefully, so that the car arrives at your buyer's home with no additional wear or damage from the time it was photographed.
9. Then you begin to deal with the returned cars.
This happens if, for example, you failed to disclose an important fact about the car (usually not your fault, not being a collector) and the buyer is unhappy and wants their money back.
(Collectors are a picky bunch, and often get angry when a car is "not as described" - this can result in negative feedback on eBay)
At this point you can either negotiate some kind of partial refund or a full refund, in which case you would have to re-list the car and start all over again.
But doing it this way, you will get more money than with the second option - generally about 35% to 50% more. Whew! Just thinking about it gets me tired!
Let's look at the second option...
Selling your Hot Wheels as a lot, to Cash 4 Hot Wheels
This option is quick, simple and painless!
---

(If you live in Idaho, I can often make arrangements to meet you in person!)
When sending pictures, I prefer individual shots, 3/4 angle view, close up, of each car - unless there are over 30 cars, then large groups of cars is o.k.)
2. If you have a price in mind for the whole lot, let me know - that might save both of us a lot of time... If your price makes sense - I can get cash to you immediately!
3. Next, we get you the CASH, and then you send me the cars!
(I've started using a licensed escrow service as a great way to protect both the seller (you) and the buyer. (me) You can learn more by visiting Escrow.com)
And that's it!

Steps 4. through 8. You can now go and spend the money, invest the money or take a trip with the money!
It's up to you... you've just turned your Hot Wheels into CASH!
---
Here's some additional help for finding Hot Wheels values or Hot Wheels prices:
There are currently no accurate online price guides that can help you determine the value of your Redline Hot Wheels cars.
However, there are a few Hot Wheels price guide books, and if you

I will be happy to send you the name of one of the most popular and well-respected Hot Wheels price guides on the market today.
If you just want a quick quote on what a particular Redline Hot Wheels car is worth, I would be happy to provide you with this service, but ONLY for Redline Hot Wheels! (Hot Wheels cars that were made between 1968 and 1977)
To get a price quote or a value of a vintage Redline Hot Wheels car, please send me some photos of the car and I will be happy to help!
Of course, if you and I are seriously discussing the sale of your Hot Wheels cars, I will be happy to make an offer on the entire group.
---
Why not at least

with your questions!
It doesn't hurt to at least e-mail me and check out Option 2 before you decide!
Below is my contact information, please e-mail me.
I am a fair and honest person who will go out of my way to help you get the most for your cars - even if I don't get to buy them, I will help you find a solid solution or way to sell your Hot Wheels!
Thanks for visiting Cash4Hot Wheels!
Dave
---
E-mail me your pictures today!

---
If you are in Boise, Idaho area, (or surrounding areas) maybe we can arrange a time to meet.
Please e-mail: